Our brand new glazed Verandah provides an ideal solution for those who wish to make the most of being outside during the best of the British weather, whilst maintaining some coverage overhead.
This outdoor living product is both stylish and functional, yet strong and durable against the worst the British climate has to offer. Produced using high-end textured aluminium decorative columns and self-cleaning toughened safety glass, the Verandah adds class and style to any property.
The Verandah comes with four different decorative column options:

Simply choose one of the four above options to give your brand new glazed Verandah the desired look. Choose to go simple, ornate, or somewhere in between.
The column construction of the Verandah is simple. Our builder will install pad stones where the columns will sit. Each of the columns has a specially designed platform which is attached to the pad stones to provide strength and stability. Our builder will then build up around the pad stone to hide it underneath. The decorative options to the bottom of the columns are then placed over the top of the support post so that everything is hidden and there is a seamless finish to the bottom of the floor.
Here is an overview of the Verandah itself: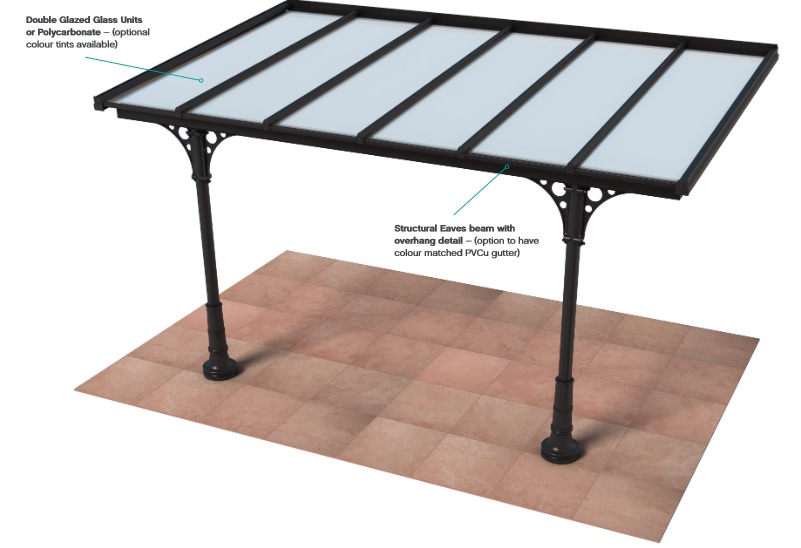 Our glazed Verandah is the leading outdoor living solution on the market. Providing stylish shelter, comfort in outdoor living, superior construction and suitable for most property types.
If you wish to book an appointment for one of our design consultants to visit you at your home to talk to you about a glazed Verandah, please call 01924 827286 or email us: [email protected] You can also drop into our showroom any time Mon-Fri 9am – 5:30pm or Saturday 10am – 4pm.