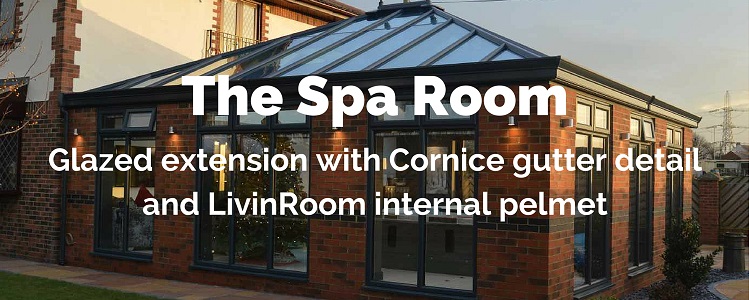 Colour
The colour scheme used throughout this project is the popular Anthracite Grey. It features both on the outside and inside of the glazed roof, as well as all window and door frames in the glazed extensions. There is a striking but stunning contrast between the bold grey colour and the modern bricks used to tie in with the rest of the house.
Internally (see gallery below) the white finish of the columns inside and on the LivinRoom pelmet detail provides a clean break and contrast with the Grey internal finish on the window and door frames. The Anthracite Grey colour has been achieved using a high quality spray finish.
Product
There are a number of high quality products used within this installation. Starting at the top, we have used a bespoke, high end portal framed glass roof containing over 50 highly energy efficient double glazed sealed units to provide a stunning view. We have also used the sleek Cornice aluminium external gutter fascia to provide depth to the gutter, in a similar fashion to old iron gutters a century ago.
The window and door frames are part of our high quality, highly energy efficient, popular Ultimate Collection range. They have been sprayed Anthracite Grey both internally and externally to create a clean modern look and to match the same colour as the roof.
Our PVCu bi-folding doors are part of our Aspect bi-folding door range. The product pictured is a 3-section door with black hardware, again Anthracite Grey to tie in with the overall colour scheme of the whole project.
Feedback
The focus of this project was to create a space for the home owner to be able to relax and unwind from the daily grind of the work place. A space to entertain with friends and family and a space to have some fun.
We worked closely with the home owner at every stage to help create this, our largest project we have undertaken.
The large glass roof provides the view, which on a night will be spectacular. It's self cleaning properties mean the client shouldn't have to worry about maintaining the roof.
All base and foundation work, walling, plastering, electrical and flooring work was carried out by ourselves. This left the client free to focus on the exciting tasks of choosing a superb spa bath, furnishings and how the final colour scheme was going to look once the plastered columns and LivinRoom pelmet had dried.
The project was one of our biggest, but was definitely worth the effort as the client now has an outstanding relaxing and personal space to enjoy the views above and spend some quality time with family and friends. All put together using some of the best window and door products on the market right now.
Installation Features

Windows:
Ultimate Collection PVCu
External finish: Anthracite Grey wood grain
Internal finish: Anthracite Grey wood grain
Frames: fully reinforced with steel as standard
Doors:
Ultimate Collection French Doors
Eurocell Aspect PVCu bi-folding doors
External finish: Anthracite Grey wood grain
Internal finish: Anthracite Grey wood grain
Roof:
Steel portal supporting frame, sprayed Anthracite Grey
Heavy duty glazed Ultraframe self cleaning glass roof, spars in Anthracite Grey wood grain
Anthracite Grey aluminium Cornice external gutter fasica
Insulated LivinRoom internal pelmet
Official Window Energy Rating: A+8
Official window U-Value: 1.3 W/m2
Glass products includes argon gas, warm edge spacer bars, low 'e' insulating glass and low iron glass as standard
Windows, doors and roof available in a wide range of standard colours and wood grains
Products can be sprayed to any colour using a high quality spraying process, using both the RAL range of colours and the increasingly popular Farrow & Ball range
An expansive range of traditional and contemporary hardware, available in a wide range of polished and brushed finishes
A wide range of entrance door styles to suit both traditional and modern homes
Before, during and after…