GRP Door Canopies – Wakefield
Door canopies are to doors, like hats are to people. They protect from the weather and can add style. So when buying a GRP door canopy, it has to be the right one. At B & P Windows we have an extensive range of door canopies and door surrounds to suit everyone's tastes and needs.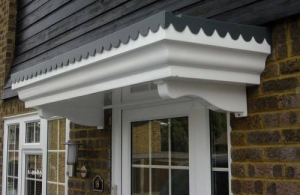 The beauty of a GRP (glass reinforced plastic) door canopy or surround is the material it is made from. GRP is a composite material like carbon fibre. It is strong, but lightweight and requires little or no maintenance at all. GRP is used for example, on North Sea fishing boats to help them cope against the harsh sea conditions. So if GRP can stand up to that, it will make a very good material for a low maintenance, quality door canopy and surround.
So, unlike timber and tile, GRP canopies and surrounds require no painting, no sanding down and no varnishing. Once it has been installed, just the odd wipe down when it gets dusty is all that is required! It's a great way to frame your door, without it needing constant attention.
Our GRP canopies and surronds come in a range of sizes and a very wide variety of styles and designs, so there will be something out there which suits your tastes and requirements. Even the tile detail on some of our canopies have interchangeable colours, so you can match your canopy to the colour of your roof tiles!
To see some of the designs available, please visit us at our showroom. You can find our details on the Contact Us page on this site. If it is more convenient, you can also arrange for a free quotation for one of our sales consultants to visit you at your home and go through which canopy would suit your property best. No hard sell, no pressure sales tactics, just honest advice and good service!