If you are looking to update your existing conservatory, or build a brand new room to extend your home, our solid roof glazed extensions are the perfect solution.
There are many millions of first generation PVCu conservatories around the UK, with old polycarbonate roofs that make them too cold in the Winter and far too hot in the Summer. It's very loud when it rains, and they're difficult to maintain and keep clean. This is why solid roofs have become so popular in the last few years.
At B & P Windows, we have been very selective in choosing the type of solid roof that we install. As with all other products we install, we only choose the very best. That is why we are installers of the the WARMroof solid tiled roof, manufactured by Prefix Systems. This is the leading solid roof on the market and comes with some highly impressive specs:
U-value of just 0.17 – this is extremely low, ensuring that heat is kept inside the room and isn't allowed to leave via the roof
easy to install on-site – pre-fabricated, highly insulated roof panels easily installed to help save time
strong steel frame sections – ensuring the roof has solid, strong and secure frame
real tiles or tile-effect tiles – our solid roofs can take either a genuine tile, to match an existing roof tile, or choose between four authentic colours from our recycled plastic Envirotiles
two layers of insulation
This is how our solid roofs are constructed: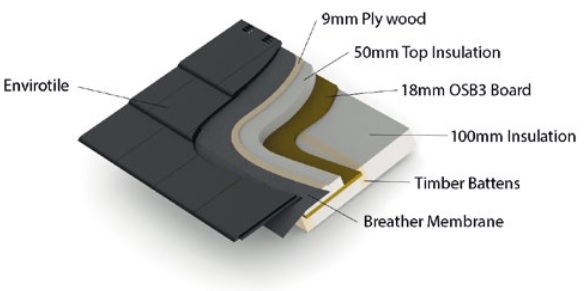 This is the best insulated solid roof available, and is where the WARMroof derives it's name. Unlike other solid roof products out there which suffer from cold spots and condensation, the construction shown above ensures our solid roof is as warm and insulated as possible.
Taking the right precautions
As you can imagine, there is a significant weight difference between a solid roof and a polycarbonate roof. That is why the right checks and precautions are taken before we undertake any work.
If you are thinking of refurbishing an existing conservatory, but you are looking to keep the existing base/dwarf wall/frames, then we will carry out a number of checks on your existing structure to ensure that what is already there can support a solid roof. This involves an inspection of your base to make sure that it is deep enough and in good condition. An inspection of your dwarf wall and frames to make sure that they can support the weight of the solid roof. We will also inform your local building control that work is being undertaken to transform your conservatory into a glazed extension.
If we find that ground conditions don't meet our criteria, then we will discuss additional options to help reinforce the existing structure. At B & P Windows we take your health and safety, and quality of your extensions, very seriously.
If you wish to book an appointment for one of our design consultants to visit you at your home, please call 01924 827286 or email us: [email protected] You can also drop into our showroom any time Mon-Fri 9am – 5:30pm or Saturday 10am – 4pm.